Return to Headlines
A Legacy of Cheer, 10/26/2022

By Marissa Winkel, SHHS Student Journalist
Some things bring a great gift to those who inherit them and those who inherit them are sometimes destined to continue these things as legacies. Evidently, one SHHS student in particular has created a legacy of her own.
Daley Browning, a senior at SHHS, is entering her 10th year as a cheerleader in Spring Hill. During her younger years, she cheered through Kansas City Football and Cheerleading, Inc. (KCFC), an organization she has affiliated with through Spring Hill. Throughout her life, she also pursued cheering on both the SHMS and SHHS cheer squads. Looking back on her KCFC youth experiences, Browning decided that she wanted to take on a position just like her previous coaches had. "I'm coming up on my 3rd year [of coaching through KCFC]," said Browning.
Starting her freshman year, Browning decided that she wanted to be an assistant coach to younger students of Spring Hill. Being inspired through her love of teaching and once being a KCFC cheerleader, she wanted to be both a cheerleader and a coach.
"I'm not the head coach now, but I definitely want to be able to get to that point in the future, it's something that I really do enjoy. I really like coaching them because I want to be a teacher and I think it's great experience for that," she said.
While Browning has always been a part of the cheerleading squad at SHHS, she has had to find a way to have a good balance between school and her own cheerleading, as well as KCFC coaching.
"It can be hard [because] state for [SHHS] cheer is normally in November, which is the same time that competition cheer is going on for KCFC girls. There would be times where I would be going from practice to practice, back to back," she said.
While Browning says that it can be a challenge, at the end of the day she always found it to be very worth it. Being someone who plans on entering the education field, she loves working with young cheerleaders. Rather than seeing it as volunteer hours, she sees it as an opportunity to have fun with her passion of teaching a fun sport.
Looking back at her fun experiences being in KCFC herself, Browning wanted nothing more than to give the cheerleaders the same experience that she could remember.
"I still remember my cheer coaches from my KCFC and I hope that my girls remember that too. I would say it is a big deal, especially with sports in Spring Hill. I feel it is a big thing in the community and starting at a young age is so important in getting that drive built," said Browning.
Browning does her best to encourage the youth cheerleaders to try out for the cheerleading squad once they reach middle school and through SHHS as well. Doing this excites the girls and inspires them to do this one day.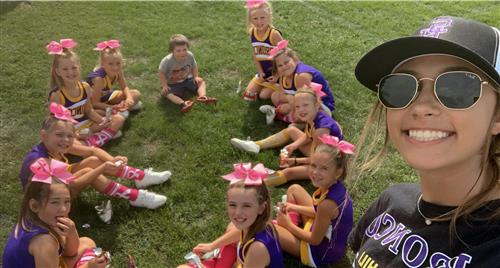 "A lot of them will come to my games and then come back to practices [where] we'll talk about it. They love hearing about all the high school stories and all the things we do. They [also] get to be in the Spring Hill parade, [along with] the high school cheerleaders, [where] they get to see high schoolers in action. I really do think [that] inspires them to keep wanting to cheer," she said.
Even while Browning is an assistant coach, she gets a lot of coaching experience compared to that of a head coach. Having years of cheering experience, the KCFC head coaches are able to count on her as they see her bring her talents to the youth cheerleaders.
Browning and the girls practice at Spring Hill Rec Center once a week and cheer at football games every weekend. Through KCFC football and cheer,
hey travel to Olathe, Blue Valley and other schools in Kansas; these games lead to competitions that happen annually in November. Browning has stuck with a small group of girls who she claims to have grown with for a few years.
"I used to have a kindergarten through second team, but this year is mainly third graders. A lot of them I have been with since they were in first grade," she said.
Browning hopes to advance to a higher coaching position this year while she is a senior. Not only are her girls growing, but Browning is as well, and she wants to continue to train these girls into being talented athletes.
"I just think about how I used to be in the position where they are now. [While] seeing where I've come with cheerleading, I really do believe that KCFC encouraged me to definitely carry on with cheer. I think it's cool and I'm very interested to see where these girls end up going in their high school careers too," said Browning.
To this day, Daley Browning continues to pursue her cheering and coaching talents in hopes that these girls will one day be an SHHS cheerleader just like her. From the years she was in KCFC up to her years of coaching it herself, she is creating a legacy to those who are rediscovering what Browning once did. Several years from now, those girls could become KCFC coaches and continue this legacy.
About the Journalist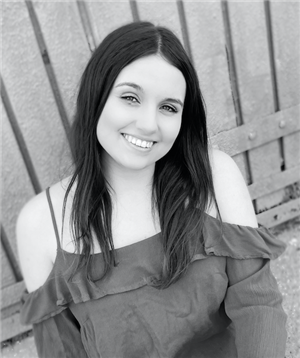 Hi! My name is Marissa Winkel and I am currently a senior at SHHS. This is my second year being a reporter in our high school's Student Publications and I absolutely love what I do. I love to write and contribute to designs here and there for the yearbook. It's important that one does what they are passionate about in which, in this case, this is my passion!
To read additional articles from the most recent issue of the district magazine, please visit Spring Hill School Magazine Fall '22.