Return to Headlines
100 Years of Football, 10/21/2022
The 2022 football season marks 100 years since the Spring Hill High School football program started. The following memories from the past century were collected from the Spring Hill High School yearbook archives.
1922
The Spring Hill High School football program started in 1922. The 1923 team was undefeated. There were 17 boys in the entire school and they had an eleven-man team. Practice and games were held in a field in back of what is now Hale Street. The players furnished their own uniforms and transportation and used a nearby barn to change clothes.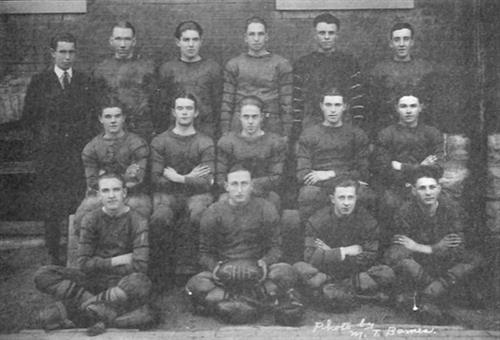 1938
"The name "Bronco" was given to the high school in 1937 when Chester Van Hercke, editor of the High School Broadcaster, wanted the school to have a name to add color to his writings. Meeting in the manual training room, a group of athletes discussed the possibilities of several suggested titles, and finally Bronco was chosen.
In the seasons of 1938 and '39, Spring Hill High School broke away from the Johnson County Athletic and Literary League to join the newly formed Little Six League. All teams were to take part in football, basketball, track, one-act play and music.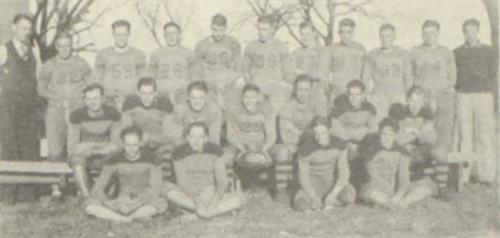 1949
During the 1949 season, two players were selected for the Little Six League All-Star Team. The first was Bob Findley, Junior Halfback, who scored seven of the teams 13 season touchdowns. The second was Joe Hopkins, Senior Lineman, who was chosen unanimously to be on the All-Star Team by the coaches of the league.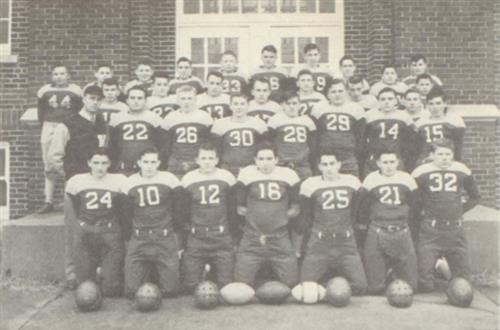 1955
The 1955 season was strong for the Broncos with a record of 8-0-1. Leon Beck (pictured here with Beverly Cantrall, Football Queen) was a co-captain of the team, Homecoming King, and a Little Six League All-Star.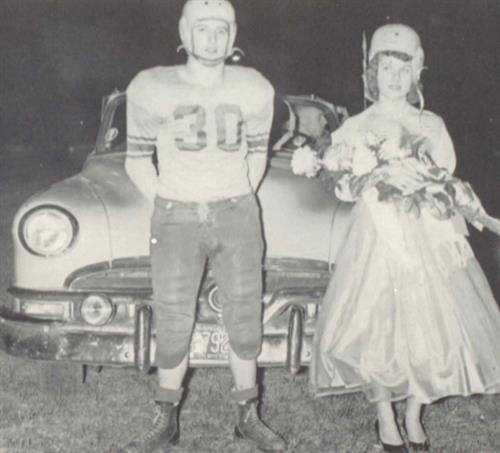 1962
The First Annual Football Festival was held during the 1962 season. During the festival, Carolyn Shafer was named Queen and Steve Israel was named King. The Football Festival is now known as the Spring Hill Fall Festival. The 2022 Spring Hill Fall Festival will be on Saturday, September 24 and Sunday, September 25.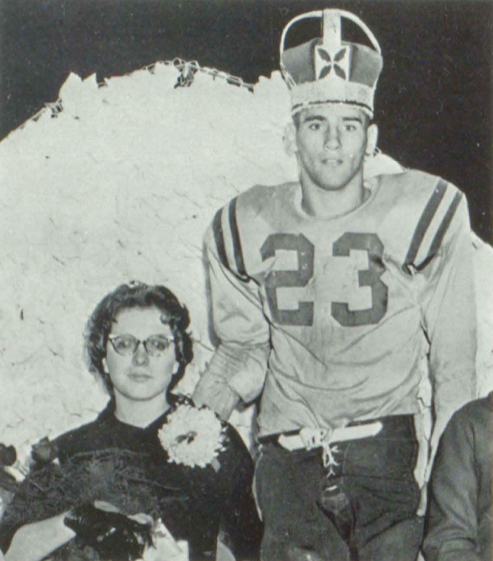 1971
In 1971, Coach Harold Montgomery turned his second year as head mentor into the most successful Spring Hill had seen in five years or more. The team's record was 6-3, and they finished second in League.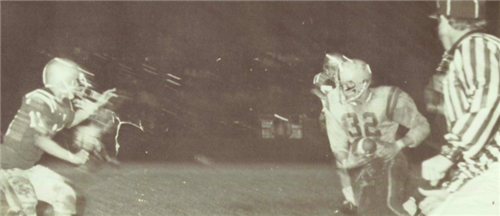 1983
Quarterback Robbie McManis (pictured) consistently connected with his receivers on long passes and completed the season ranked second among quarterbacks in passing yardage in the Kansas City metropolitan area.
Through the season the team had 1388 total yards rushing and 1838 total yards in the air. The team was ranked second in the Kansas City metropolitan area offensively.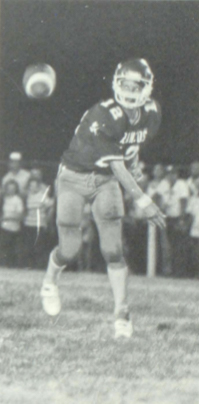 1990
The 1990 season was one to remember with an 11-1 record and victories at district, bi-district, and regionals.
David Seamands, class of 1991, remembers his senior season: "The key to that year was we were a family and all grew up together. Our class had a bunch of great athletes who did their part. I was an All-State Inside Linebacker and All-League Offensive tackle. It was a tremendous honor to represent my team, school, town, and my family as a representative in the Shrine Bowl. Our coach, the late Rick Clark, was a huge part of our success. [It was a] great honor to play for him."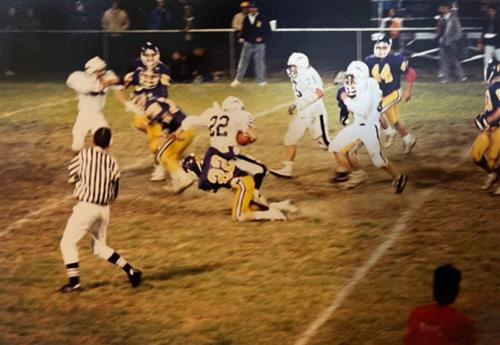 2001
In 2001, Assistant Coach Paul Young said, "We did hit a dry spell, but despite that, the kids kept coming after it and playing hard."
Four seniors received all-league awards: Robert Hall received second team defensive line and honorable mention offensive line, Hunter Bigbie received honorable mention quarterback, Clint Whitson was awarded first team receiver, and Kyle Barrett (pictured) received first team defensive back, second team receiver, honorable mention kicker and honorable mention punter.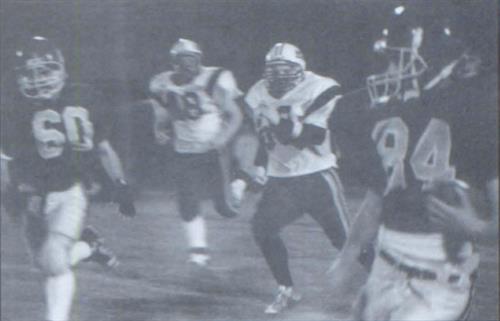 2013
In 2013, the Broncos won their first playoff game since the 90-91 season. Alex Brack, 2013-2015 Assistant Coach, recounts the feeling of watching the team win its first playoff game in 23 years:
"[It was] exhilarating. Not only was this the first playoff game victory since 1990, but it was also in front of our own hometown crowd on our home field. Having that support, backing, and noise coming from the home stands that were packed in the stands, was an amazing moment and feeling that I am glad those kids got to experience."
2022
"We couldn't be more excited for the '22 season and will strive to be our absolute best every week," said Coach Jason Feeback (pictured from 2021 KC Chiefs Award. "We have a solid group of players returning and some guys hungry to prove themselves this Fall. Coming together is the beginning. Staying together is the process. Working together is success. Winning together is the result. We hope to see Bronco Nation out in full force this Fall!"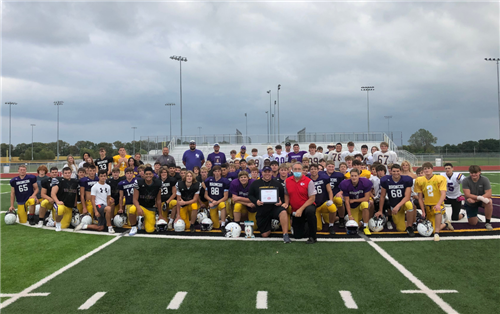 The SHHS Varsity Football team will conclude their regular season with an away game at Louisburg tonight, October 21, at 7:00 p.m. To read additional articles from the most recent issue of the district magazine, please visit Spring Hill School Magazine Fall '22.