Return to Headlines
BOE Meeting Recap, 11/13/2023
By Marissa Winkel, For Spring Hill Schools
The Spring Hill Schools Board of Education met November 13, 2023 at the District Administrative Center to discuss several items. The following are important highlights from the meeting:
Good News, Recognitions, & Announcements
Good News, Recognitions, & Announcements
Beth Cooper, Wolf Creek Elementary principal, recognized two outstanding teachers for the Core Value of Student Success, Michelle Long and Michelle Seichepine. Both teachers coordinate "highly engaging programs" that "stretch creativity and critical thinking" for students, as Cooper mentioned. "[They] share two buildings; they each spend two weeks at Wolf Creek [Elementary] and two weeks at Spring Hill Elementary flipping back and forth throughout the year," Cooper said. Long and Seichepine have "about 800 students on their caseloads, but you would never know that watching them work." Seichepine is known for her "cheerful enthusiasm" and Long is known for her ability to "handle anything that comes her way".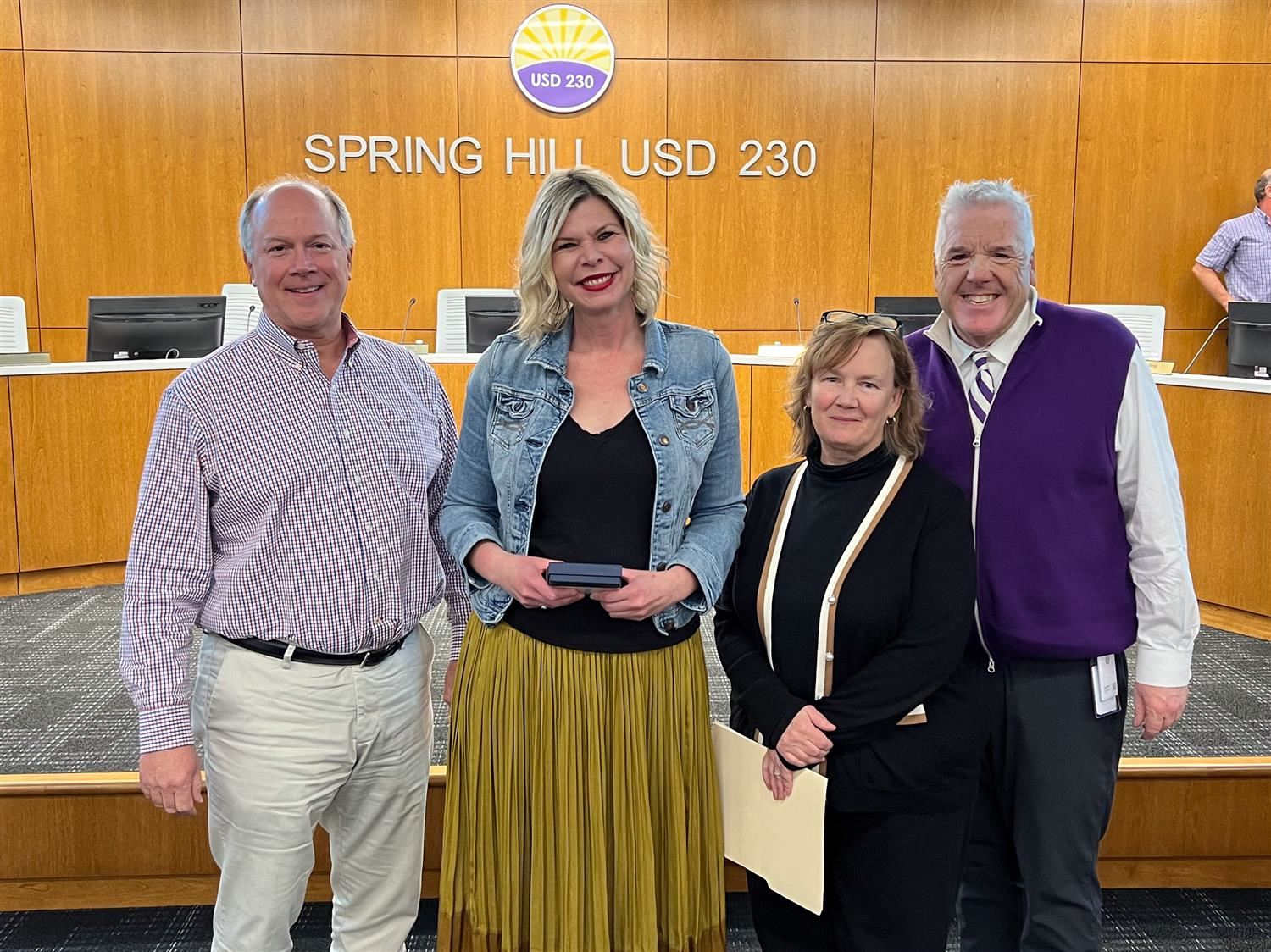 Dr. Christopher Villarreal, director of communication & engagement, created this month's What's Going Well video showcasing Wolf Creek Elementary and their daily excellence.
Open Enrollment Hearing
Dr. Joshua Robinson, assistant superintendent, briefly provides a recap on the new JBCC policies for non-resident student enrollment as well as revisions made. This "specifies reasons the Board may use to deny continued enrollment of a non-resident student who's not in good standing". Per the state statute, this will start for the 2024-2025 school year. The Board will go back and review capacity by April.
Action Items
Cindy Dziadosz, director of special services, provides a follow-up overview of the special services purchase request which was discussed in a previous meeting. This item was approved by the Board.
A follow-up was also made for implementation of weighted grades for rigorous courses for the 2024-2025 school year. This item was also approved by the Board.
Discussion Items
Dziadosz requested additional special services instructional material for the elementary level. This intervention program, Number Worlds, will help students to fill learning gaps that are present in math. This "creates a lot better consistency in their materials" and allows them to efficiently go through grade levels of learning.
Sean Gordon with Gordon, CPA provided the 2022-2023 audit reported as of June 30, 2023. This report is required by state statute to do this on an annual basis.
Tim Meek, director of construction & safety, provides a proposition of the purchasing of track & field equipment for Forest Spring Middle. Meek shows the pricing for the chosen set which he said would be the best option for middle school level equipment. This proposal will be brought back for approval in the next meeting.
Cassie Barton, K-12 Insight head of school, provides an update on Spring Hill's virtual school program. This report to the Board ensured that student learning is being accomplished virtually as well. This program was reported to have increased graduation rate from 29.9% in 2018 to an expected 70.5% rate next spring.
The Board is bringing attention to the continuance of safety values in the school district. A reevaluation is being made in consideration of the two officers who protect a large number of students on a daily basis. The Board is considering hiring a third officer to contribute to day-to-day safety. Craig Walion, lieutenant of Johnson County Sheriff's Office, and Mark Leisten, chief deputy, spoke on aspects of their partnership with Spring Hill Schools and what they intend to provide for the school district's safety. They answered questions from the Board on what aspects of safety could be enhanced for students and staff in schools.
The complete agenda and presented information are available by visiting BoardDocs.
The complete meeting recording is available by visiting the Spring Hill Schools YouTube channel.