Return to Headlines
Where in Kansas is Mrs. Gazzano? 03/07/2023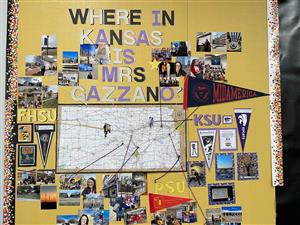 For the past six months, WSMS art teacher and District 3's Kansas Teacher of the Year (KTOY) finalist, Mrs.Jessica Gazzano, has been traveling the state with the 2023 KTOY Team. Although her students miss her daily presence in the classroom, she returns each week to reconnect with them and share some of her adventures with students and colleagues. The KTOY team has attended professional development opportunities, been recognized at the state's capital, and presented to future educators at various colleges and universities across the state just to name a few of things they have been up to. When asked about her experiences thus far, Mrs. Gazzano beamed, "I am so glad Mr. Sprague saw potential in me that I never saw in myself. If I were not pushed outside of my comfort zone, I would have missed so many opportunities to learn from and collaborate with the best educators in Kansas."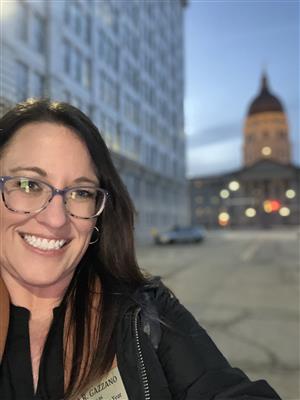 The KTOY team began their journey attending different professional development sessions. One of the training sessions they had the opportunity to attend back in November in Wichita helped to prepare them for the numerous speaking engagements that accompany the honor of being a part of this team. Another training entitled "Capturing Kids' Hearts" provided the team with the tools on how to enhance the classroom environment through fostering compassion and empathy with students.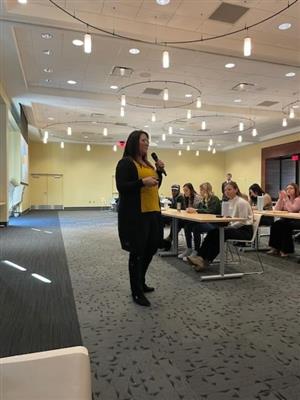 A highlight on the tour for Mrs. Gazzano was being recognized on both the senate and house floors in Topeka. It was at the capitol building where the team met with the joint education committee and were able to advocate for the importance of public education. They also spoke on the importance of teacher recruitment and their passions within their own classrooms. The team spent several days in our state's capital learning about trends in Kansas education. They were invited to a round table discussion with Commissioner Randy Watson and Deputy Commissioner Ben Proctor where state mandated testing was discussed. The KTOY team provided their thoughts, feedback, and suggestions about future testing.
WSMS students and staff enjoy hearing about and seeing just where in Kansas Mrs. Gazzano has visited. The team travels throughout the state to visit college and university campuses to speak with future educators. Some of the topics of discussion between the prospective teachers and the team have included diversity, understanding personal potential, and the joy of educating future generations. A few of the colleges the team has visited include Emporia State University, Kansas State University in Manhattan (Mrs. G's alma mater), Bethany College in Lindsborg, Ft. Hays State University in Hays, and Wichita State University. The team will visit 33 campuses in all by the end of their tour.
The team also visits various school districts across the state. They are given the opportunity to speak with superintendents, principals, teachers, and students about the aspects that make each district unique. The team then brings their findings back to each of their own districts.
Mrs. Gazzano stated that she was enjoying the opportunity to experience the vastness of diversity that the different school districts bring to education. Each rural, suburban, and city school district is unique and offers up something special to public education.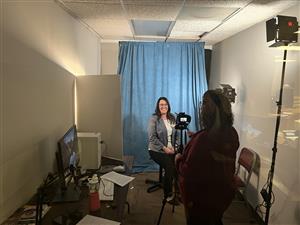 Mrs. Gazzano will continue the KTOY tour throughout the coming months and into the beginning of next school year. We look forward to hearing about the many experiences ahead for her and the team.
"This experience has been incredibly rewarding. I have made lifetime friends, advocated for education, and shared my love of teaching with the next generation of educators. However, my favorite part of my travels is coming "home" to Woodland Spring. There is nothing I love more than my Stallion family! ~Jessica Gazzano