Return to Headlines
End of Semester Activities Engage Students From all Angles, 12/16/2022
As the semester winds down, teachers have been engaging students with projects that let students flex their creative muscles, think critically, and even just enjoy the season. Here is a short rundown of some of the exciting things happening at SHMS this week.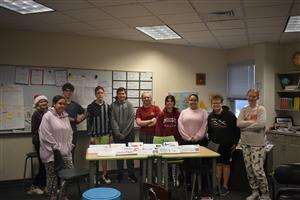 Model UN: with Zombies!
In Ms. Kanatzer's 8th grade We the People, students conducted a Model UN. StartingWednesday, students spent several days taking on roles as world leaders to discuss how to handle a zombie apocalypse. They had to research different countries and research how they would handle the situation of creating a cure, dealing with those affected, and keeping people safe. They had a lot of fun discussing all of the hypothetical situations that delegates in the United Nations have to deal with- most importantly protecting people and keeping them safe.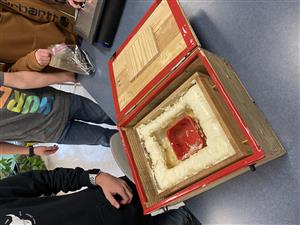 Gimme S'more Engineering
6th grade science conducted labs about heat transfer. First, students treated themselves to s'mores; the caveat: test each of the three types of heat transfer to determine which works best for toasting marshmallows. Evidence suggests that the s'mores were delicious!
For their next lab, students were asked to create a product that would be an insulator (prevent thermal energy transfer) using items found around the house. To test if their product was successful, students placed an ice cube in their insulator and then checked the ice cube after 24 hours. Most were met with fairly disappointing results. One student observed that there is a reason Yeti coolers cost more!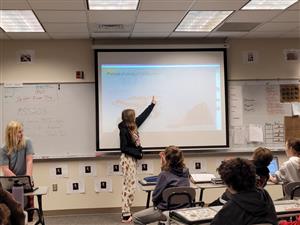 Shark Tank
Mrs. Kinyon and Mr. Dillow planned a shark tank final for 6th grade social studies. The goal, according to Mr. Dillow, is for "students to be able to identify how ideas could help shape and change societies." In small groups, students had to find or create a tool they could take back to an ancient civilization of their choice to help them. Students then created a slideshow and presented their idea to the class. Some students even created prototypes of their tools. After presenting, they fielded questions from the audience.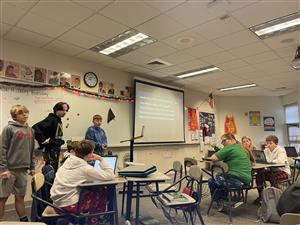 Teach the Teacher


Mrs. Lual's 7th grade Kansas history students are teaching lessons to their classes on important historical periods &/or events of the 20th century. After being assigned a partner and an event, students used Cornell notes to find the needed information in their textbook. A major focus of their research was how Kansans were involved in, as well as how Kansas was impacted by, the event or time period. Next, groups created a 10 minute mini-lesson for their class. Students flexed their creativity to make the lessons engaging and fun so that their classmates could understand and explain what they learned.


Tic Tac Toe Art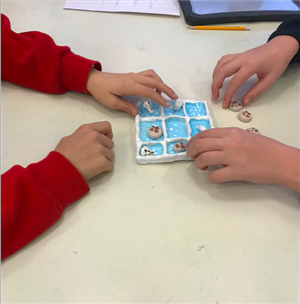 8th graders in Ms. Vermillion's class have been working hard creating clay tic tac toe boards. Students had to create a board using precise measurements as well as slab and coil handbuilding methods. The students used their creativity to create tic-tac-toe pieces that fit a theme of their choice. They were then instructed to paint with tempera and add mod podge for a nice sheen. Students got to test out their completed boards with a friendly competition of tic tac toe.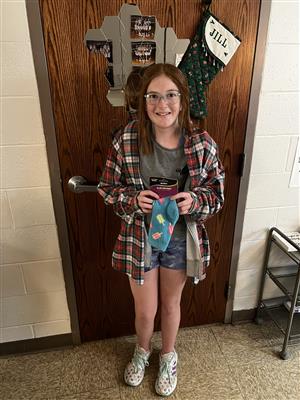 12 Days of Giving
In Girls' Healthy Living, Mrs. Thimesch is focusing on spreading holiday cheer. For the 4th year in a row, Mrs. Thimesch has held a #12DaysofGiving drawing for her students. Since her first year of teaching she has purchased small gifts, "just everyday things that a middle school student could potentially need." Each day, for the last twelve days of the semester, one name is drawn. That student gets to choose a prize. Mrs. Thimesch says, "It is one of my favorite things to do; and to see the student's face after they've won and picked out a present is absolutely priceless." Winners can be viewed on Mrs. Thimesch's twitter feed, Jill Thimesch (Starling) @jillfr0mthehill.